what is vertical gardening?
Vertical gardening is growing plants, either stacked on top of one another, centred around a circular grow wall or attached to a 'green wall' where they will grow onto a structure (this method is becoming an increasing popular trend with gardeners). Vertical gardening can help you grow your cannabis in a smaller space, while maximising your yield. This way of growing is good for indoor growers, with little growing space available.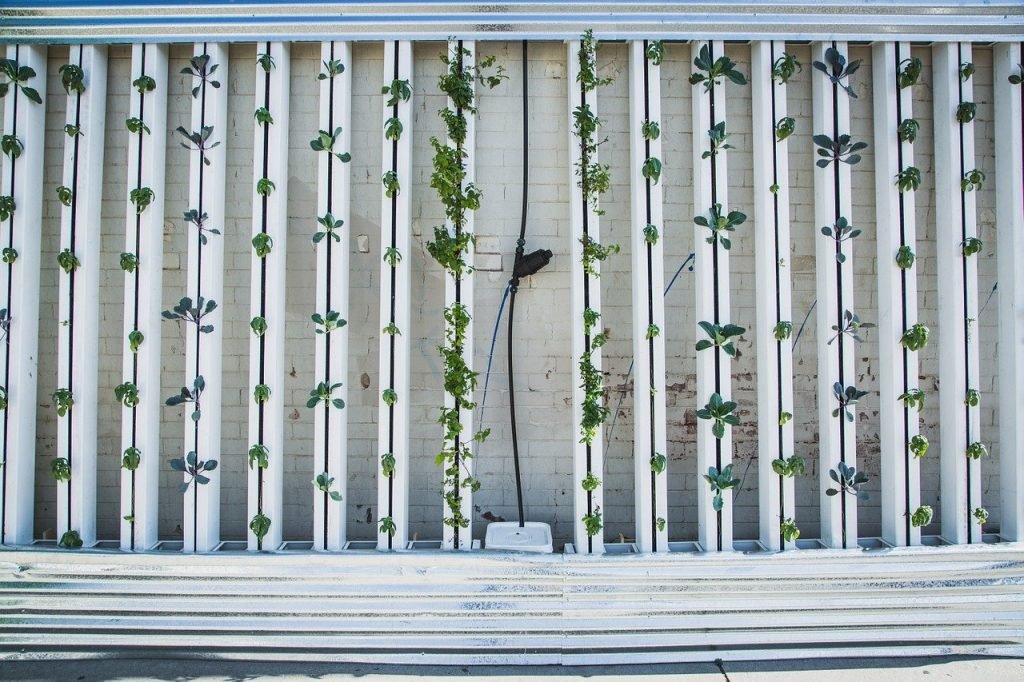 This is a popular method of vertical growing, where plants are stacked on top of each other on rows. Above each row of plants will be an LED light.
Circular Tube
For cannabis growing, a good way to grow vertically is to buy a circular growing wire or tube, in which the plants are attached to (you can hang the plants via rockwool cubes). In the middle of this circle will be a light. This whole structure will be off the ground slightly, so the spaces below the structure and above will be to release the high heat in the room.
Green Walls
This is when plants grow directly onto a wall or column, where a drip system will dispense water from the top. We have been seeing these lately in commercial buildings such as hotels (both indoors and outdoors). Indoor green walls can prove good air circulation within the room. 
why choose vertical farming for cannabis?
Vertical farming is not the easiest method to set up and is really only used by those who want to maximise their crop or want to get the most plants out of the space available. The great thing about vertical growing is that you can produce a lot more plants in a much smaller space. This method is best used for larger growing systems (such as commercial growing) or those who wish to grow a larger amount of plants.
Another great thing about vertical farming is that you are able to get in an extra crop cycle. This is because you will need to keep your plants short in the vegetative stage (a few days to a week) before moving on the to flowering stage. This short cycle means you have enough time for an extra crop!
This method can also save on electricity costs if using LED lights, particularly as the vegetative stage is shorter. It can also use the light more efficiently, meaning you can get more crops using the same lights. 
disadvantages of vertical growing
As with all hydroponic methods, there will always be some disadvantages. Although you could set up your garden DIY, it is recommended you buy specifically made systems for hydroponic vertical farming. Setting up your vertical garden can be quite costly initially. You will need to budget costs for cooling systems, lighting (LED lighting will save you money) and a climate control system.
This system also works well with a lot of plants, to really make it beneficial. As shorter plants are best, you will need to have a larger supply of plants and seeds. You will also need to put a lot of effort into maintaining your system. 
tips for vertical farming
Plan! Plan! Plan!
This method of growing requires thought-out thinking and proper planning. Make sure to leave space in your grow room for taking apart your grow trays for cleaning and allow yourself access to the plants. The room must be well adjusted to be able to walk around your system for maintenance purposes.
Choose your LED lights
Your LED lighting should be of high quality, as you will have a lot of electrical equipment in one room and you want to make sure it is safe as well as being best optimised for your plants. LED lights are great because they do not emit a lot of heat. Pink lights will give a great deal of control over the quality of you plants and are great for those wanting to experiment with different types of buds. A broad spectrum is a more general light.
Keep a check on the climate
You will need to monitor the heating and cooling of your grow room. You can buy sensors to help you monitor this. Make sure the room has good ventilation and air circulation.
Check the strain
Indica strains and indica-dominant hybrids tend to grow much shorter, which will help you when growing vertically as it will maximise space. Remember to keep your plants short in the vegetative stage (this stage is kept short, moving on to the flowering stage after a week).
Maintain your system
As with all hydroponic systems, be sure to keep the pipes and reservoir clean, so any residue build-up is kept to a minimum. 
To sum up, vertical gardening is a creative way to grow your cannabis, but it is also not for the faint hearted. It will require dedication and hard work to set up and maintain. However, if you are keen to try and grow a large amount of plants, in a small space and do not mind the challenge, this way of growing could be for you.