Hydroton (also known as clay pebbles or clay rocks) is one of the most versatile growing mediums and works well with hydroponic systems. It is made by expanding clay through an extremely high heat, creating a popcorn-like effect, into small porous clay balls or pebbles.
These pebbles can then hold nutrients, air, and moisture, which are durable and weighty. After a few waters, they do not float, making it great for hydroponic systems, where it can hold the plant in place.
The space between the gaps in these clay balls, create air gaps which then increase air ventilation. However, this extra space also means hydroton does not retain water as well as other growing mediums, so you will need to water more frequently. Another big advantage of using clay pebbles is that they can be used several times over, which can be efficient, as well as giving you a big saving.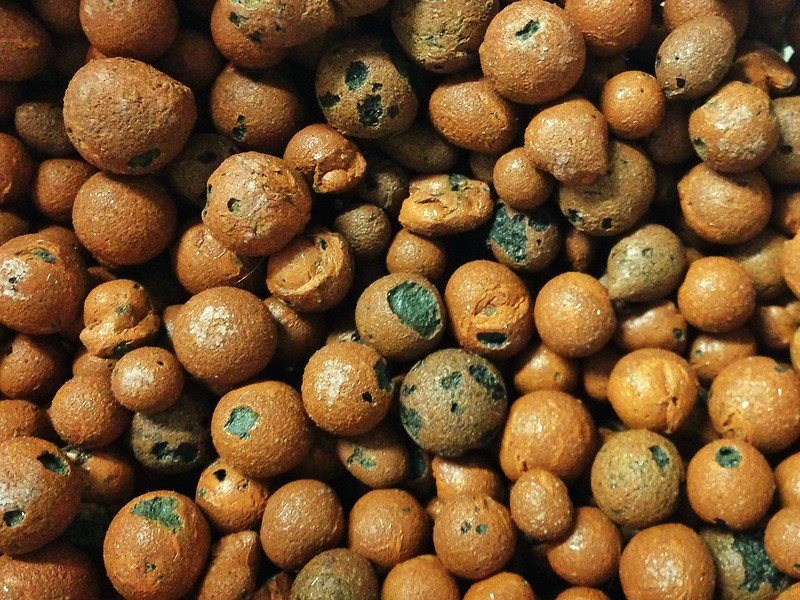 You will need to rinse hydroton before use, to get rid of the clay dust which can cause a clog in your system and make your water murky. Socking for around 25 hours in water with a pH level of 5.5, will help to get rid of any dust and residue before your grow. After rinsing, you can also soak your hydroton in a nutrient solution, with an electrical current of up to 4.0.
When using hydroton, keep the pebble moist at all times and do not allow them to dry out. When starting a new grow, always sterilise and rinse out the hydroton before starting afresh. Clay pebble can range in size from 5mm to 15mm. The larger pebbles will hold or retain more moisture than smaller ones.
Hydroton works well in hydroponics systems such as the flood and drain and the drip system. 
Clay pellets are cheap and re-usable
They absorb moisture and nutrients well
They provide excellent drainage
Gaps in the pebbles allow air to flow through, increasing oxygen and ventilation
You can save money by reusing hydroton for multiple grows
Pests and bugs find it hard to make a home on this medium
The pebbles can be crushed for better water retention in the germination stage 
disadvantages of hydroton
You will need to pre rinse and soak your clay pebbles before using
After each grow you will have to stabilise and rinse out the medium again
They can be quick to dry out if not receiving enough water
The pebbles can be quite heavy, particularly for those who have larger pots or bigger grows