Did you know that making your own cannabis bath bombs is easier than you think. Relaxing in the tub has never been easier with this simple CBD, THC, and hemp bath bomb recipe.
A luxurious, warm soak in the tub in what many of us need at the end of a busy day. It can take away the stresses of the day and set the tone for a relaxing evening. Adding some cannabis oil to your bath bomb can add even more to the relaxation you will feel!
For the ultimate home spa experience, with a twist, read on for the full recipe.
CBD and THC bath bombs
If you live in an area where cannabis is legal, you may be able to make your own CBD bath bomb or THC bath bomb. Whilst they will not get you high like when your smoke a joint, many users have reported feeling deeply relaxed, more of a 'body' high and almost a mild euphoric feeling.
Whilst scientific evidence on the use of THC or CBD bath bombs is limited, CBD oil is well known to have anti inflammatory properties, and could help you relieve stress, anxiety, promote sleep, and it may even help your skin clear up. The warm water will open up your pores and allow a gentle absorption into your skin and bloodstream.
Remember to always start with a low dose of THC or CBD, if this is your first time taking a cannabath. Whilst you will not get high, it may induce a deep relaxation, so be careful when getting out of the tub.
Hemp bath bombs
If you live somewhere where THC and CBD are not allowed, you may want to try making a hemp bath bomb as this now legal (in Australia), and in fact, hemp is propping up in all kinds of beauty products. Hemp is high in beneficial omega fatty acids which have great skin moisturising properties. It may also help with other issues, such as inflammation and certain skin conditions.
When making your hemp bath bomb, just substitute the cannabis oil for hemp seed oil.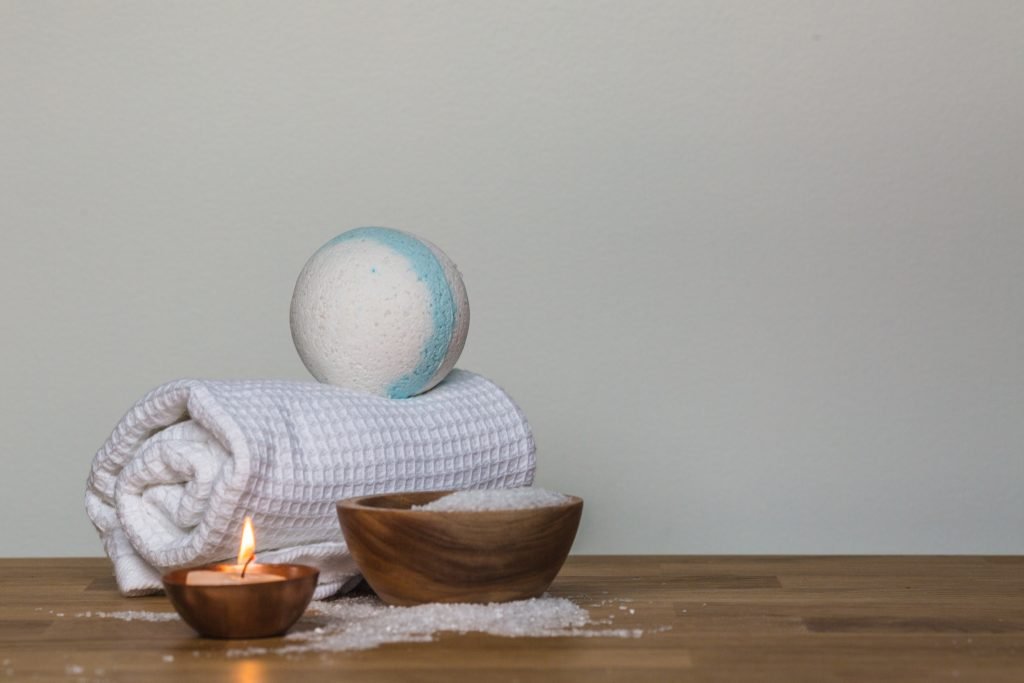 Making your CBD, THC, or hemp bath bombs
When mixing your dry and wet ingredients, it is important to mix them slowly, to avoid activating the mixture.
The citric acid is what makes the bath bomb fizz when it touches water, so pour the wet ingredients gradually and mix evenly. Add the wet ingredients a little at a time, to create a consistency that holds well when formed into a ball.
If your mixture is too crumbly, add a little water, a few drops at a time.
For the mould you can use an actual bath bomb mould, or if you do not have one of those, a cupcake or silicone mould will do simply fine. You can experiment with making different shapes for your bath bombs!
Adding pigment and essential oils can be optional but is a great way to experiment with different colours and fragrances. If you want a calming feeling, choose lavender oil, for an uplifting bath bomb, add some orange essential oil, for a refreshing and stress reliving mood, choose bergamot and for a revitalizing bath bomb, peppermint is the way to go.
Ingredients (makes roughly 4 bath bombs)
1 cup baking soda
½ cup Epsom salts
½ cup citric acid
½ cup corn flour
¼ to ½ teaspoon of CBD or THC oil, or 3 teaspoons of hemp oil
1 tablespoon coconut oil (you could also use olive oil)
1 teaspoon water
12-15 drops essential oil
Food colouring or dry pigment (as much as desired to create the colour you want)
Method
Mix the dry ingredients (baking soda, Epsom salts, citric acid, corn flour, and colouring pigment, if using) in a large bowl until they are well combined.
Mix the wet ingredients in a bowl (cannabis oil or hemp oil, coconut oil, water, and any essential oils).
Slowly add the wet ingredients to the dry mixture, gradually adding a little bit at a time. Do this until the mixture holds well but is not too wet. If the mixture is crumbly, then add a little more water.
Push the mixture into your mould, and if using a bath bomb mould, push the two moulds together tightly.
Allow your bath bomb to dry in the mould for 24 hours.
Remove the bath bomb from the mould and either use straight away or store in an airtight container.
To use: after your bath is filled with warm water, drop in the bath bomb, and wait until dissolved.
Relax and unwind in your lovely bath.
Be sure to check out our beauty news page for the latest updates!