About the Strain
Grandaddy Purple is a popular strain and a cross between two indica-dominant strains Big Bud and Purple Urkle. This high THC strain gets its name from its deep purple flowers and its potent buds will create cerebral euphoric effects, and a dreamy relaxation.
The strain originated from a San Francisco laboratory, and was created by Ken Estes. The high levels of THC will work their intense magic, giving a sense of euphoria, and at the same time a deep relaxation for an evening smoke.
Grandaddy Purple also comes with several nicknames, including Grand Daddy Purp, G Purps, GDP, Granddaddy Purps, and Gridlock.
Aromas, Flavours and Appearance
Grandaddy Purple has an intensely delicious, sweet aroma of berries and grape. The first taste is similar to the aroma with a grapey, berry and sweet taste, with hints of pine and citrus.
The buds are big and dense, with bright green and purple leaves, and yellowy-orange pistils that stand out against the various colours. Top this with a frosty coasting of silver-like crystals and you have yourself quite good looking bud!
Effects and Usage
This strain is definitely one for the evening due to its sedative and relaxing effects, the perfect wind down after a busy week. Relaxed, sleepy, happy, and a dreamy calmness will be sure to wash over you, but keep some snacks close by as this one may give you 'the munchies'. The high THC creates a long lasting high that even the most prominent users will likely feel.
Due to its sleepy and calming effects, this is a great strain to help with anxiety, stress, or insomnia. It can also help those suffering from a lack of appetite, due the munchie sensations.
Serious side effects are only really noticed by those taking particularly high doses of this strain, or with users who are affected by high THC strains. The only really common reaction is cottonmouth (dry mouth) which can be easily dealt with by keeping hydrated before, during and at the end of your session.
Growing
Growing Grandaddy Purple is relatively easy but could be a little difficult for total beginners, as you will need to monitor the humidity levels.
Best Climate
Grandaddy Purple loves a dry, warm environment without too many changes in temperature. It likes a temperature of around 21 to 26 degrees Celsius, with no more than 10 degrees lower for night time temperatures. You can drop the temperature down to around 18 degrees Celsius end the end of flowering, to enhance the quality of the buds.
Humidity
The humidity should be kept at around 50% when growing Granddaddy Purple. If it goes too high, plant's stomata will close and it won't be able to take in any water or nutrients and may be more susceptible to mould and mildew. One or two weeks before harvest, you can drop the humidity further to around 30 to 40% RH.
Indoors or Outdoors?
If you live in a warm and dry environment (like this strains native California) then you may be able to grow this strain outside. If not, then an indoor grow is best, so you are able to properly control the humidity levels. Many growers say this strain is easier to grow indoors, as it will thrive in the optimal humidity levels.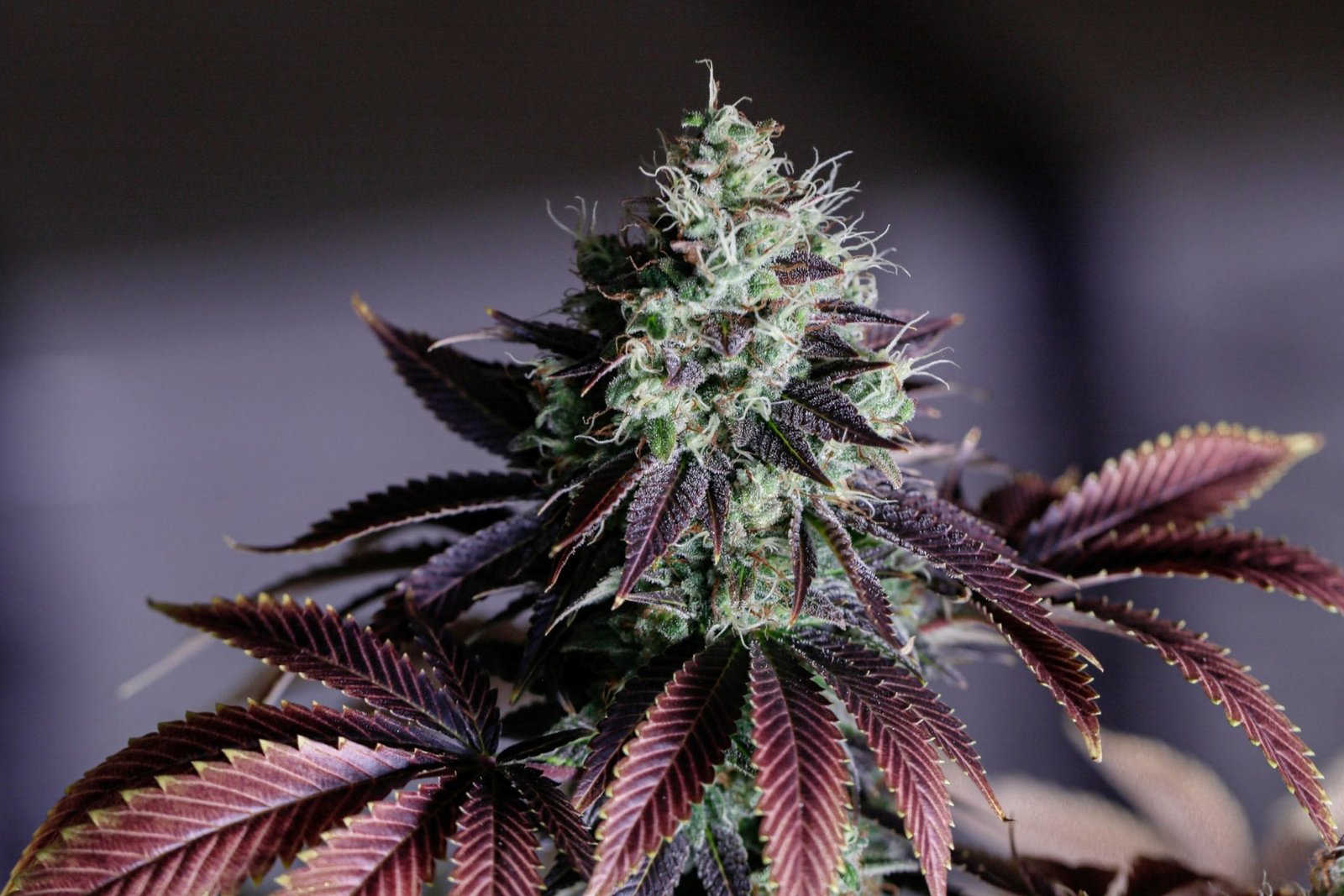 Flowering, Yield and Harvest
Grandaddy Purple takes around 8 to 10 weeks to flower. Yields outdoors will be around 480 grams per plant, or 538 gram per metre squared when growing indoors.
In the Southern hemisphere, you can expect to harvest our plants in mid-April to mid-May and from mid-October to mid-November in the Northern hemisphere.
Check out our Aussie grow calendar for when to harvest outdoors in Australia.
Plant Feeding
You will want to give higher amounts of nitrogen than potassium and phosphorus in the vegetative stage and then higher amounts of phosphorus during the flowering stage. Essential secondary nutrients include copper, boron, iron, sulphur, manganese, magnesium, and calcium.
You can choose a high-quality soil or add in organic nutrients into a lower quality soil. Cannabis plants also do really well in hydroponic set ups.
Other Growing Tips
Grandaddy Purple loves the super cropping technique (High Stress Training). This method can produce big yields, but be warned, you should only consider this method if you are a more experienced grower. Low Stress Training methods like Screen of Green (ScrOG) can also do well, and would be less risky for a beginner grower.
The optimal pH range for Grandaddy Purple is 6.0 to 6.2 in soil, and 5.6 to a5.8 for a hydroponic set up. You can purchase a pH metre and then pH UP and pH DOWN solutions to control the pH levels in your growing medium.
Feminised Seeds
Feminised seeds ensure that the plant you will grow is female. Only the female plants can make the flowers and buds that produce weed (not male plants). By buying feminised seeds you can be sure that you have the best chances for a good harvest!